Master of Public Administration degree (MPA) comes to Northern Michigan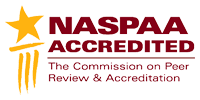 The NASPAA accredited MPA degree from Central Michigan University in Traverse City drives success in government, public service, and non-profit careers.
Classes are held at CMU's Traverse City center and at NCMC in Petoskey. Instruction will alternate face-to-face and video conferencing between locations, allowing students to interact with faculty and network with colleagues from both locations.
Our NASPAA-accredited MPA degree will put you at the forefront of modern government practices with cutting edge public administration practice and theory. You will have the opportunity to develop your skills in budgeting, human resource management, and program evaluation as well as sharpen your decision-making and problem solving abilities.
---
Information Sessions
MPA faculty will discuss what an MPA degree can do for you! Participants will get an understanding of the program, course work and outcomes. Drop in any time and get all of your questions answered.
At CMU in North Central Michigan College in Petoskey:
September 8th, 2016 from 4-6pm    RSVP

North Central Michigan College
1515 Howard Street
Petoskey, MI 49770
---
Find out more today!
Call 231-995-1756 or toll-free 877-268-4636
or visit cmich.edu/MPA or cmich.edu/Traverse City